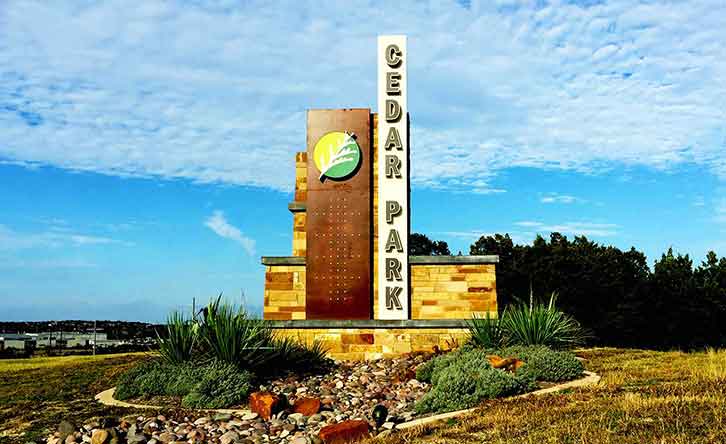 About Cedar Park
The city of Cedar Park, Texas is a vibrant community just 20 miles northwest of Austin proper. Founded in 1887 and incorporated in 1973, Cedar Park is a city rich with history. This suburban gem is well-regarded regionally and nationwide and has been ranked as one of the fastest growing cities by the U.S. Census Bureau twice in the last decade with a population of approximately 65,000.
Though it has grown rapidly since the 1990's, Cedar Park has maintained its small town feel and welcomes newcomers and residents alike with over 927 acres of maintained parks and rugged natural areas as well as more than 22 miles of dedicated trails for hiking and mountain biking. And amid all that natural beauty is a thriving business community making it easy to live and work without the need for a long commute.
In addition to numerous local small and medium-sized businesses, there are two Fortune 500 companies based here and multiple high-tech companies and industrial manufacturers that employ many of the city's residents. And getting around is easy using the well-designed and maintained infrastructure. Cedar Park feels like it's just a stone's throw from anywhere you want to go with nearby connections to US-183 as well as TX-45 and TX-29.
Latest Listings in Cedar Park
Cedar Park overflows with thoughtfully planned neighborhoods; beautiful single family homes; and affordable, well-crafted condominiums. From traditional brick exteriors to farmhouses and single story ranchers, there's a style of home for every buyer.
There's a lot of pride of ownership here and many of the properties feature generous front and backyards complete with old growth trees and luscious landscaping. Houses range from $120,000 to more than $1 million. The architecture is fairly diverse and there's a wide variety of lot sizes, floor plans, square footage, and amenities, so you can find the perfect home for your family in the neighborhood of your dreams.
Cedar Park Middle School
Cedar Park High School
Cedar Park Montessori
Charlotte Cox Elementary
Cypress Elementary
Summit Christian Academy
Westside Elementary
Attractions
Don't be fooled. Cedar Park may be known for its bedroom communities, but it's not without world-class attractions. In addition to more than 40 recreational areas, Cedar Park houses exciting venues where you can expand your mind, keep the kids (or adults) entertained, or take in a show.
The H-E-B Center at Cedar Park is a versatile venue where all sorts of entertainment takes place including Texas Stars and San Antonio Spurs games, concerts, local events, and more. Feel like taking the kids to do something educational? You're in luck. Cedar Park is also home to the Texas Museum of Science and Technology which is complete with a planetarium, rotating exhibits, and themed tours. And if you're a golfer, the place to be is Twin Creeks Country Club. Twin Creeks is over 760 acres and includes a luxurious, impeccably maintained 18-hole golf course designed by golfing legend Fred Couples. But this country club isn't purely for golfers and socialites; it also features a fun family water park as well!
Nearby Shopping
Cedar Park is popular for its assortment of small businesses, boutiques, and totally unique shops which are nestled throughout the city. In addition to all those fabulous and quirky shopping opportunities, there are also two large malls – Lakeline Mall and Lakeline Plaza – complete with well-known brands like Macy's, White House Black Market, and Abercrombie & Fitch.