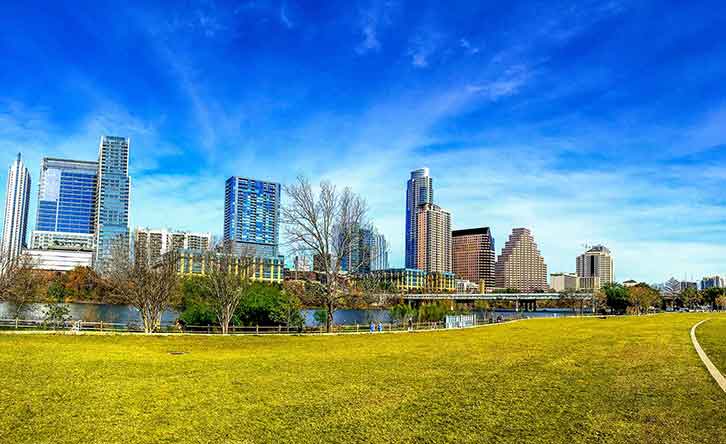 About Austin
Austin is one of the most desirable places to live in the nation, and one of the top spots for Texas as a whole. With a population close to 1 million people and a footprint of at least 275 square miles, Austin continues to grow and expand. But Austin is special for reasons that have nothing to do with its size.
Austin is a soulful community where arts of all kinds thrive. From painters and sculptors to musicians and actors, the city is alive with creativity. It's also home to the University of Texas where more than 50,000 students attend classes on all kinds of subjects including architecture, business, medicine, law, and more.
And the secret is out – Austin continually tops the lists of the best places to live in the U.S. and was most recently ranked as #1 out of 100 by a U.S. News & World Report.  Though it's large, Austin is home to many distinct neighborhoods, each with their own culture and feel.
Latest Listings in Austin
Austin offers housing in all kinds of styles from gorgeous modern homes packed with all the amenities you can imagine to classic ranch style houses, modest bungalows, and everything in between. There's new construction happening all the time, so if you can't find what you're looking for, it could be coming just around the corner! Lots vary in size depending on the location, but many properties still offer large front and back yards and luscious greenery.
Schools
Austin may be an urban giant, but it has small town values and schools are held in high regard.  There are many great schools within the city including:
Chaparral Star Academy
Eden Park Academy
Barton Hills Elementary
Blackshear Elementary
Forest Trail Elementary
West Ridge Middle School
Hudson Bend Middle School
Westlake High School
Anderson High School
Nyos Charter School
Attractions
With hundreds of unique shops, fabulous restaurants, and a vibrant nightlife, there's never a shortage of things to do in Austin. In addition to all the year-round staples, Austin features all kinds of seasonal events including concerts, street fairs, and festivals.
There are nearby natural attractions like Hamilton Pool, an unbelievably beautiful swimming spot surrounded by waterfalls; and Mount Bonnell, where you can get some exercise and take in the gorgeous views. Or you could decide to do something a little more unusual like visiting the Hope Outdoor Graffiti Gallery or play the Escape Game. And, you wouldn't be properly enjoying Austin if you didn't explore the arts. You could visit the Umlauf Sculpture Garden or take in the exhibits at one of the many Austin Museums. There's also golfing, sporting events, and other fan favorites.
Nearby Shopping
There are so many places in Austin to shop; it's hard to choose where to go first. There are various malls, like The Domain, Barton Creek Square, and 2nd Street District. Or you can head to the extremely walkable downtown area where there's an eclectic mix of shops that offer everything from luxury wares to weird, rare, and unusual items.