You might have heard the myth that real estate open houses are a waste of time. The past few years have had more agents turning away from open houses because of COVID and simply put, they weren't necessary.
When homes are listed and sold in record time, there might not be time for an open house. This can make it easy to fall for the idea that open houses are a waste of time. However. they are still very powerful and a great way to market your listings, when done right.
Yes, if you don't plan your open houses well and you don't run them properly, they can be a waste of time. However, a well-planned and well-run open house can give you lots of new leads and help you grow your business faster and easier.
Creating a go-to open house checklist can make it easier to streamline the process of running a great open house. Let's look at some of the things you will want to consider including on your open house checklist.
Top 10 Items to Include on Your Open House Checklist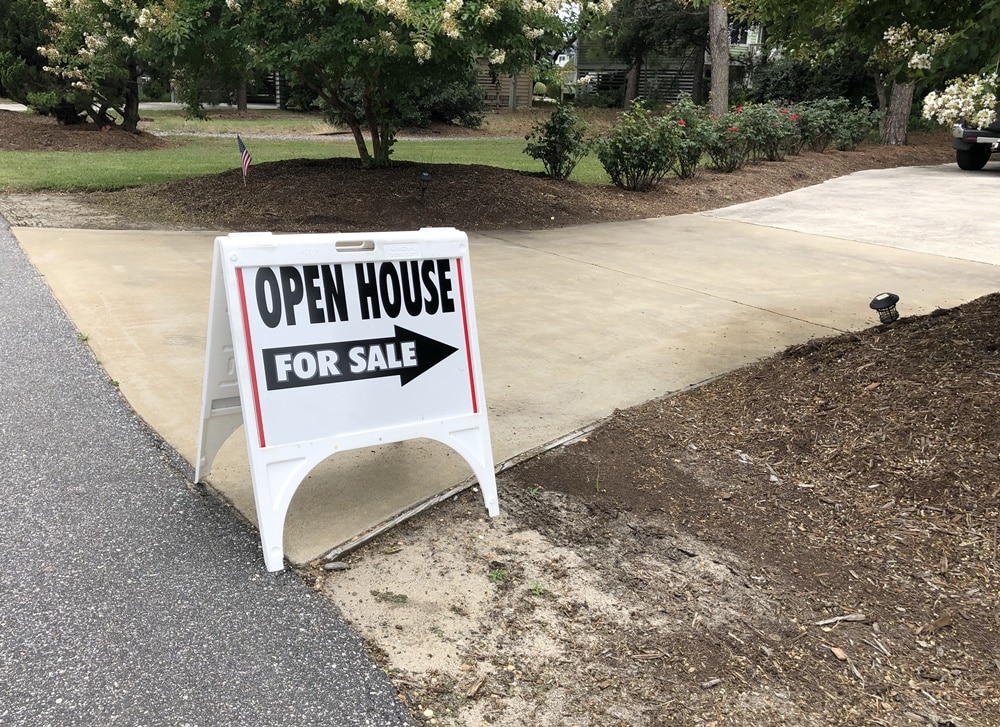 1. A Complete Marketing Plan
It's not enough to mention that you will hold an open house in the listing for the home. You want to have a complete marketing plan. This should include social media posting, reaching out to leads through email, and more. 
Make sure you have a good plan to market the open house throughout the week or weeks leading up to it. Post it on Zillow and Realtor.com, along with sending out an email blast and posting regularly on social media the days leading up to it.
Also, consider posting a home preview on your social media a few days before you hold the open house. It can also be helpful to put up directional signs the day of, to help people find the open house.
You don't have to go crazy, but the right food and drinks can help attendees see you the right way. Guests at an open house won't know you and they will judge you on everything. Serve the right good and drink and they might just remember you when they need an agent.
3. Use Open House Scripts and Icebreakers
This is likely the first time you will meet the people attending the open house. With the right scripts and icebreakers, you can get the conversation going quickly.
4. Have a Sign-In Sheet and Use It
It's even better if you can use a tablet or two and have people sign in electronically, but a sign-in sheet is necessary. Always have a paper sign-in sheet in case technology doesn't work properly. You might even be able to have people sign in on their smartphones. 
With an electronic method of signing in, you can feed people right into your email autoresponder and your CRM.
5. Bring Plenty of Property Flyers, Brochures, and Business Cards
Open houses attract a variety of people. Some are there to see the house because they might want to put in an offer. Others are just nosey neighbors, and some fall in between.
You want to have plenty of property flyers, personal brochures, and business cards. It's necessary to make sure everybody can take information with them, whether about the property you're showing off or about you.
You've probably heard about the trick of baking cookies right before an open house to add to the ambiance through smell. Well, you don't have to bake cookies, you do want to set the ambiance. Light candles, add light music, and make sure you have a good ambiance throughout the home.
7. Bring Chairs and a Table
An unfurnished house will require you to provide a place for people to sit. Even a furnished house might not have the right seating for you to use. Make sure you have a table and chairs for your open house.
After the open house, you want to follow up with any buyer's agents for feedback. They might have questions or you might find out it wasn't the right house for the buyers, but you have another listing that fits better. Make sure you follow up with those that were the most interested a couple of days after the open house.
If you were not using an app or electronic sign-in sheet, you will need to manually add your new leads to your CRM. This should be done quickly so your automated system can go to work for you.
10. Meet with the Homeowner
You will also need to meet with the homeowner after you have received feedback. You might have an offer to share with them or feedback you need to share. Maybe a specific repair was mentioned several times and you can work with them to address it. It's also possible there was feedback about the price or something else.
Along with all of these ten things you can add to your open house checklist, you want to consider all of the following:
The signage you will use and when it will go up

The time and date you will hold your open houses (don't forget about football season)

Additional marketing methods, such as postcard mailers

Inviting loan officers to attend

Using goodie bags with marketing materials

Helping homeowners prepare their home for the open house

And more
There are many things that go into a successful open house. With a good checklist you can rely on, you'll have a template to use for all your open houses.